Quick MTF, an image quality testing application
Quick MTF lets you test the quality of digital images. It has a precise computing engine and intuitive user interface that is easy to use without special training. Simply open the test image with Quick MTF and select the target region.
Purpose
Quick MTF checks the quality of images taken with an imaging device, letting you test the device's performance in different conditions and settings. This enables you to make an informed decision about whether the device meets your needs.
Quick MTF can be used to check virtually any imaging equipment; it is successfully used for testing the quality of lenses, cameras, medical imaging devices, night vision systems, microscopes, surveillance systems, and so on.
Quick MTF measures:
The device's resolution, including the spatial frequency response (SFR), better known as the modulation transfer function (MTF); the line spread function (LSF); and the edge spread function (ESF);
Chromatic aberration, including its value in pixels, as a percentage of the image height, and as a percentage of the distance from the image center;
Color noise as the dispersion of high-frequency noise component in dark and light areas.
The results are provided both as graphs and as tables. You can export the results to Excel or HTML format.
How Quick MTF works
The test table contains slanted-edge areas. By analyzing such areas, Quick MTF can calculate the device's resolution, chromatic aberration, and noise. The technique is described in the ISO 12233 standard and fully implemented in Quick MTF. Image analysis using the modulation transfer function (MTF) provides more accurate and objective information on the resolution than many other approaches. MTF modelling through slanted-edge analysis is one of the most effective techniques.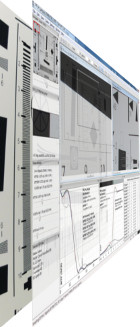 Getting started with Quick MTF
The trial version of Quick MTF allows you to perform 40 tests for free. You can start right now by taking a picture with your device and downloading the application here.
Please feel free to contact us with any questions you may have about Quick MTF.

See also